1U Low Profile High Density Rack Mount Power Supply from MEAN WELL
The MEAN WELL DRP-3200 series rack mount power supplies are perfect if you are looking for a 1U low-profile rack mount power supply with a high-power density. 
The MEAN WELL DHP-1UT mounting rack is ordered separately and can accommodate up to 4 DRP-3200 front end rectifiers. All 4 rectifiers can be connected in parallel to deliver up to 12,800 WATTS of power, depending on the actual front-end rectifiers used. 
There are two different front-end rectifiers available: 
| Link to Product Information | Output Voltage / Current | Power Output |
| --- | --- | --- |
| | 24V / 133A | 3192W |
| | 48V / 67A | 3216W |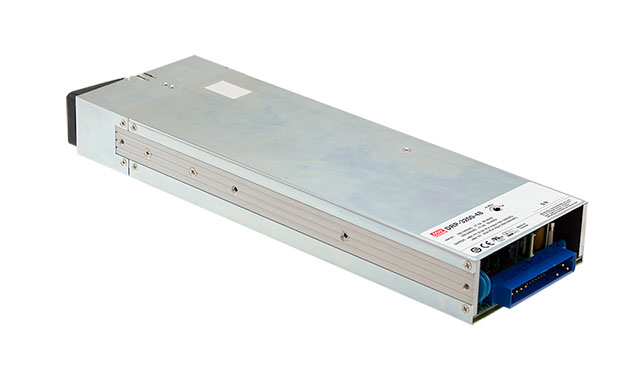 The slimline 1U low profile and high-power density are not the only remarkable features of these power supplies. 
The power supplies are highly efficient, with an efficiency rating of up to 94.5%. 
The front-end rectifiers are also hot swappable, so you don't have to power the system down in the unlikely event of having to swap a unit over. 
As standard the DRP-3200-24 and DRP-3200-48 support the PMBus communications protocol, CANBus support is optional. This can be used to monitor the status of the power supply and to also trim the output current and, or voltage.  
The output current and voltage can also be trimmed by applying an analogue voltage signal. This means these power supplies are compatible with many PLCs and other types of system controllers used in industrial and process automation applications. 
The power supplies can also be switched on and off remotely. A 5V / 0.3A auxiliary output is available to maintain the controller in stand-by mode until it is required again to reactivate the power supply. 
There is also an alarm signal output for remote monitoring of the status of the power supply. 
These power supplies offer a high level of reliability coming with a 5-year manufacturer's warranty. 
For further information, please do not hesitate to contact ADM on 1300 236 467.