ADEL System All-in One System DIN Rail Mount DC UPS in Stock at ADM
ADEL System is just one of two manufacturers in the World, who offer an All-in-One DIN rail mount DC UPS solution. 

ADEL System's All-in-One CBI series DIN rail mounted DC UPS gives you the ability to optimise the power management of your system with one single, compact and cost-effective device. 
You can also buy a holder for 2 x 7.2aH batteries to create a compact and neat UPS solution. However, it should be noted that you can use much larger batteries if required, with the charging rate being up to twice the rate of the rated output current. 
You can browse our product range by clicking on the following link:  
DC UPS Output Voltages 
Across our product range we have models with 12VDC, 24VDC and 48VDC outputs. 
3 charging levels are utilised: boost, trickle and recovery. It is possible to set boost and trickle remotely (on some units). 
UPS Solution for System Critical Applications and Remote Locations 
The ADEL System UPS solution is perfect for both system critical applications and remote locations.  
One of the key features that you will find on some models is the built-In Self Testing function. 
The built-in self-testing function runs an auto test every 60 seconds to check the battery connection.   
The ADEL System UPS can also be set to run a load test every 220 minutes to check the health of the battery.   
These two tests ensure adequate warning of any potential issue in the system. Allowing the problem to be resolved well before the battery needs to be called upon.   
Visual indications are given for 'power shortage', 'defective battery', 'battery voltage below 30%', 'battery charging level'. These features make it easy to anticipate any potential issues, before they can cause a serious problem. 
There are also dry contact outputs for the following alarm functions:  Battery Low  
Replace Battery  

System Fault  
This makes it possible to monitor the UPS remotely, eliminating the need for technicians to travel out to remote locations just to test batteries. 
Networkable UPS Solution 
One of the main benefits of the ADEL System All-in-One UPS solution is that some models can be networked via the ADELBus network using the  DPY351 controller.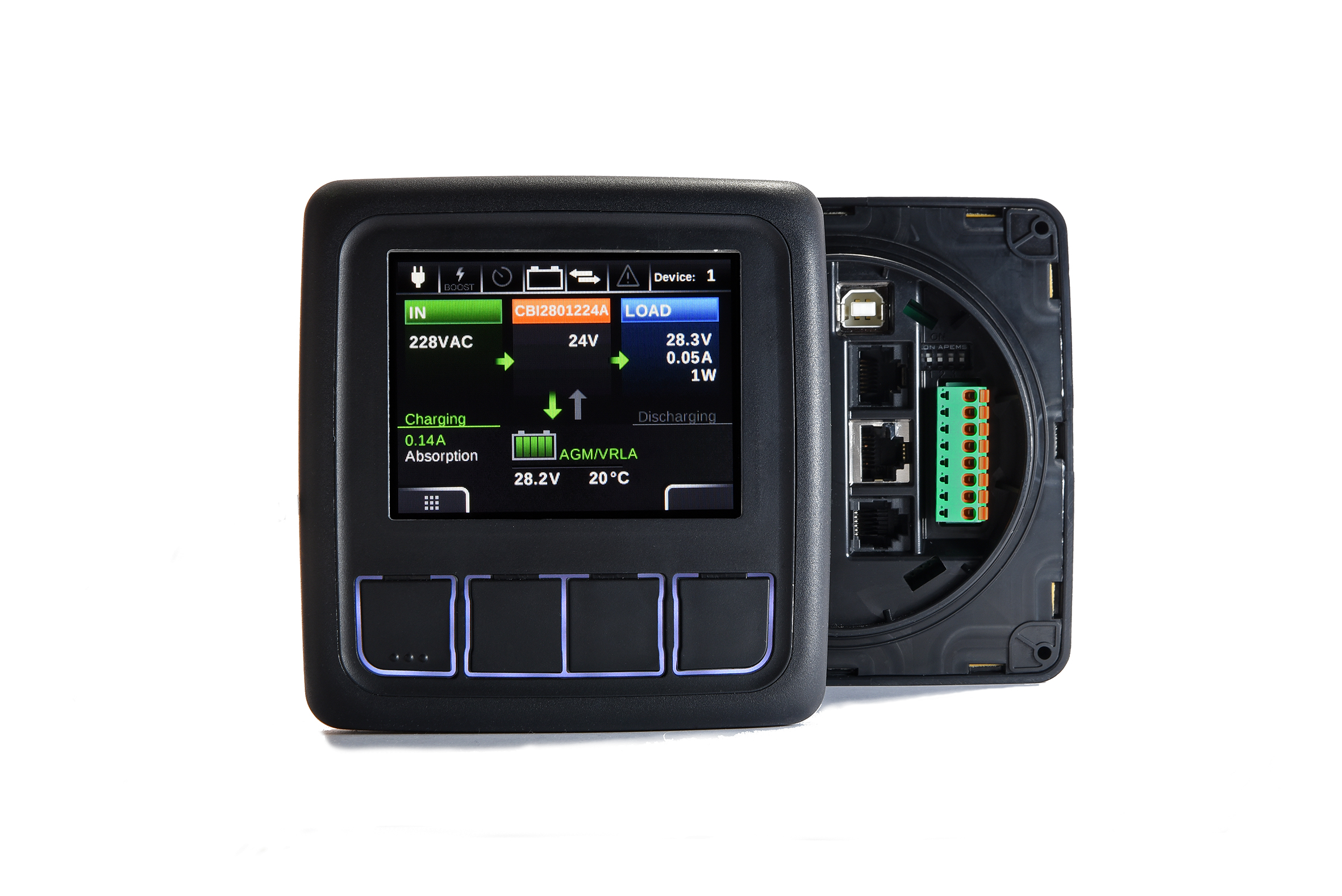 The DPY351 is a robust unit and is equipped with a high-brightness and wide viewing-angle 3.5'' TFT screen, which guarantees optimum visibility in any operating condition. The user interface is clear, intuitive, and allows for configuration and management of the connected devices in a quick and straightforward way.  
Using the on-board Ethernet interface, it is possible to remotely manage the ADELBus network via the Internet with a PC or a mobile device. The DPY351 can also act as a gateway using standard protocols such as Modbus TCP/IP and SNMP.  
System Monitoring & Event Logging  
You can remotely monitor and log the following data:  
Number of battery charging cycles  

Charge cycles completed  

Aborted charge cycles  

aH charged  
Charging time  

Total number of transitions stand-by, back-up, etc. 

Status of charging battery  
System Configuration 
The following parameters can be configured remotely: 
Charging curve  

Battery type  

Charging current Limit  

Enabling power supply function  

Timer  
Alarms and Recorder Management 
The alarm thresholds can be set remotely, and the DPY351 can receive messages back from networked devices. The DPY351 will also record and log events for system analysis.  
Event Programming 
Actions can be coordinated across all connected UPS devices, giving you a fully automated system.  
ADEL System Quality and Support 
It is vital when selecting a UPS that consideration is given to the quality and reliability of the hardware, and the reputation of the manufacturer when it comes to after sales support. 
ADEL System is a European manufacturer that was founded in in 1991 and is now recognised as one of the world's leading manufacturers of industrial DC UPS and intelligent battery chargers. The company has grown steadily, acquiring a strong reputation for its high standards of quality and reliability of products.  
ADM was recently contacted by a customer, who needed a replacement ADEL UPS unit for an Australian medical facility. The unit was approximately 8 years old. ADM was able to supply a replacement unit within a timely manner.  
This not only demonstrates the reliability of ADEL System's products, with this unit having given reliable service for 8 years, it also shows that support is there for many years after the sale has been made.  
ADM's expert technical team and stock holding offer a high level of localised customer service and support to Australian based industries. 
For further information on the ADEL System UPS range contact ADM on 1300 236 467.