Backup Power Modules
The term "Backup Power Module" can relate to more than one type of power supply.  
In most cases it will either refer to an Uninterruptable Power Supply (UPS), or a power supply with a battery backup function, that can be used to build an uninterruptable power supply.  
ADM stocks both type of power supply.  
DIN Rail Mounted DC Uninterruptable Power Supplies 
Adel System's CBI series DIN rail mount UPS modules combine a DIN Rail Mounted Power Supply, Intelligent Battery Charger and UPS Control Unit all in one tidy package. 

They are powerful & efficient, capable of simultaneously supplying their rated current to both the load and the battery. Up to 3x the current to the load for short durations. 
Some models also include advanced features such as remote monitoring and automated battery health testing. 
For further information we suggest you read the following blog posts on this web site: 
HOW ADEL SYSTEM'S DC UPS ENABLES THE RELIABILITY OF POWER SYSTEMS IN REMOTE AREAS 
MONITORED UNINTERRUPTABLE DC POWER SUPPLY
BEST PRACTICE PROCEDURES FOR BATTERY MAINTENANCE AND TESTING
Power Supplies with UPS Function 
ADM stocks the range of MEAN WELL power supplies that feature a battery backup function.  
These are available either in a DIN rail format or as an enclosed (caged) type power supply.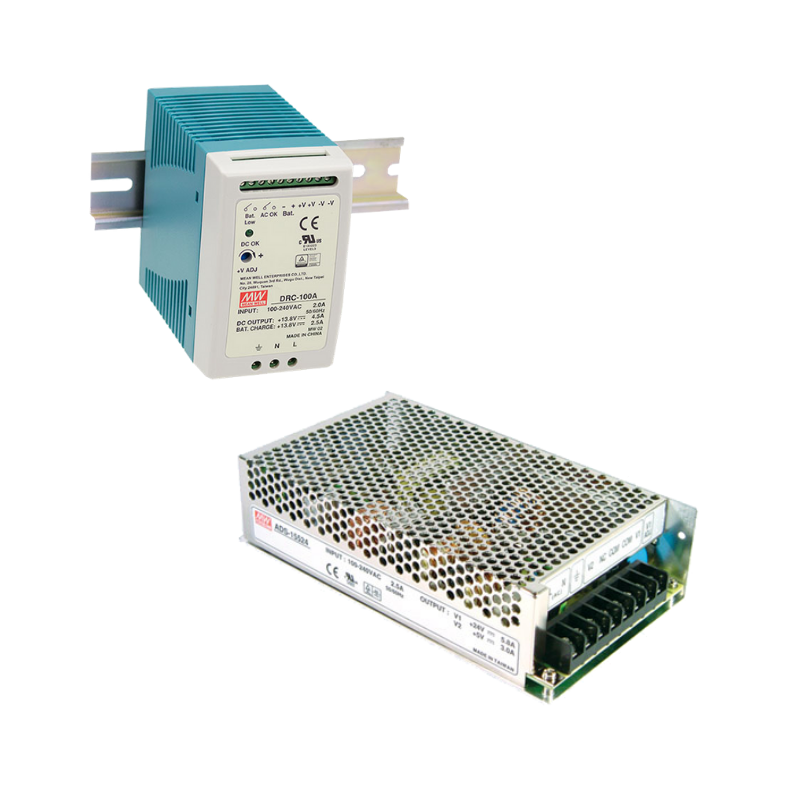 The power supply supplies the load and at the same time trickle charges a battery. If the mains power is cut then the power supply switches to battery power and resumes charging once the mains supply is restored. Some models feature DC OK signals, so that you can integrate them with some form of controller, such as a PLC or an indicator/alarm. 
It should be noted that the maximum power output available within this series of power supplies is 160 Watts. 
Redundancy and UPS Power Modules 
MEAN WELL also produces a UPS module that you can use in conjunction with any of their 24V DIN rail mount power supplies. This gives you the same level of functionality that is available with the MEAN WELL power supplies that have a battery backup, but with power outputs of up to 960 watts.  
A range of redundancy modules are also available that enable you to build additional security into your power system. 
Differences Between Types of Backup Power Module 
Both Adel System and MEAN WELL are world renowned manufacturers of power supplies.  
The product you ultimately choose will depend on the level of functionality that you need, how much power you require and the size / number of batteries to be charged. 
Adel offers you a fully integrated DIN rail mountable DC UPS system with some highly advanced features. 
MEAN WELL is very cost effective for customers, who only need a basic level of functionality.  
For further information, please contact ADM on 1300 236 467.