Harting Connectors for Telecommunications Installations
ADM offers a wide range of Harting connectors that are well suited for mobile phone tower installations.
Harting's HAN series modular connectors can be configured to carry power, data, and signals. They can even carry fibre optics.  
Hybrid modules can carry power, data, and signal through a single connector, reducing time on site for installation and maintenance.  
Individual power modules are available that can accommodate power cables up to 95mm2.  
When it comes to the range of signal modules, there are far too many to list in a single blog post. The Harting Han range also includes data modules for 48 SC and 72 LC fibre connections. 
Another useful feature is the combined power / RJ45 module.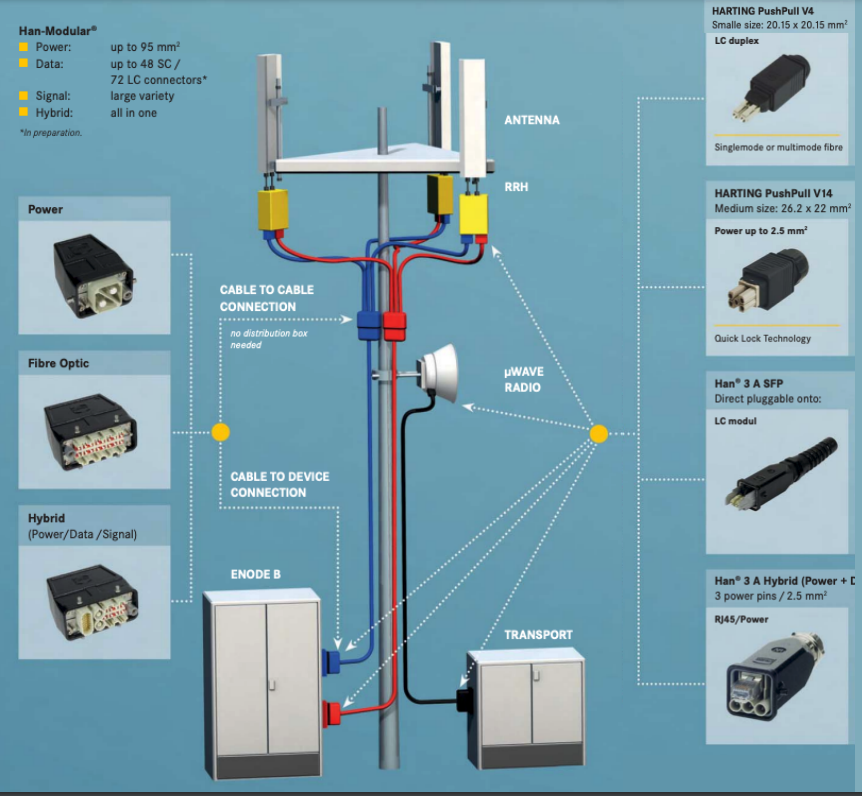 Single purpose connectors are also available to carry power, signal, data, and fibre optics. 
Many connectors in the Harting range have an IP67 rating that makes them ideal for use in harsh environments. They are rugged and have been tested to withstand multiple cycles of disconnection and reconnection. This means that they should go on to provide years of reliable service in an environment where they are expected to be disconnected for maintenance reasons. 
Please do not hesitate to contact ADM if you would like assistance in selecting a modular connector for your telecommunication installation. 
IS THIS INFORMATION USEFUL?
If so, why not share it with your peers and colleagues. Simply click on the blue LinkedIn share icon below.