Charging with the Adel All-in-One DC DIN Rail UPS System
Adel System's CBI series is an All-in-One DIN rail mounted UPS solution. Each unit is a combined DIN Rail Mounted Power Supply, Intelligent Battery Charger and UPS Module. 
They have a universal input voltage of 115 ~ 277VAC and are available with the following DC output options: 
12V (3A, 6A, 10A, 15A, 35A versions) 

24V (3A, 5A, 10A, 20A versions) 

48V (5A, 10A versions)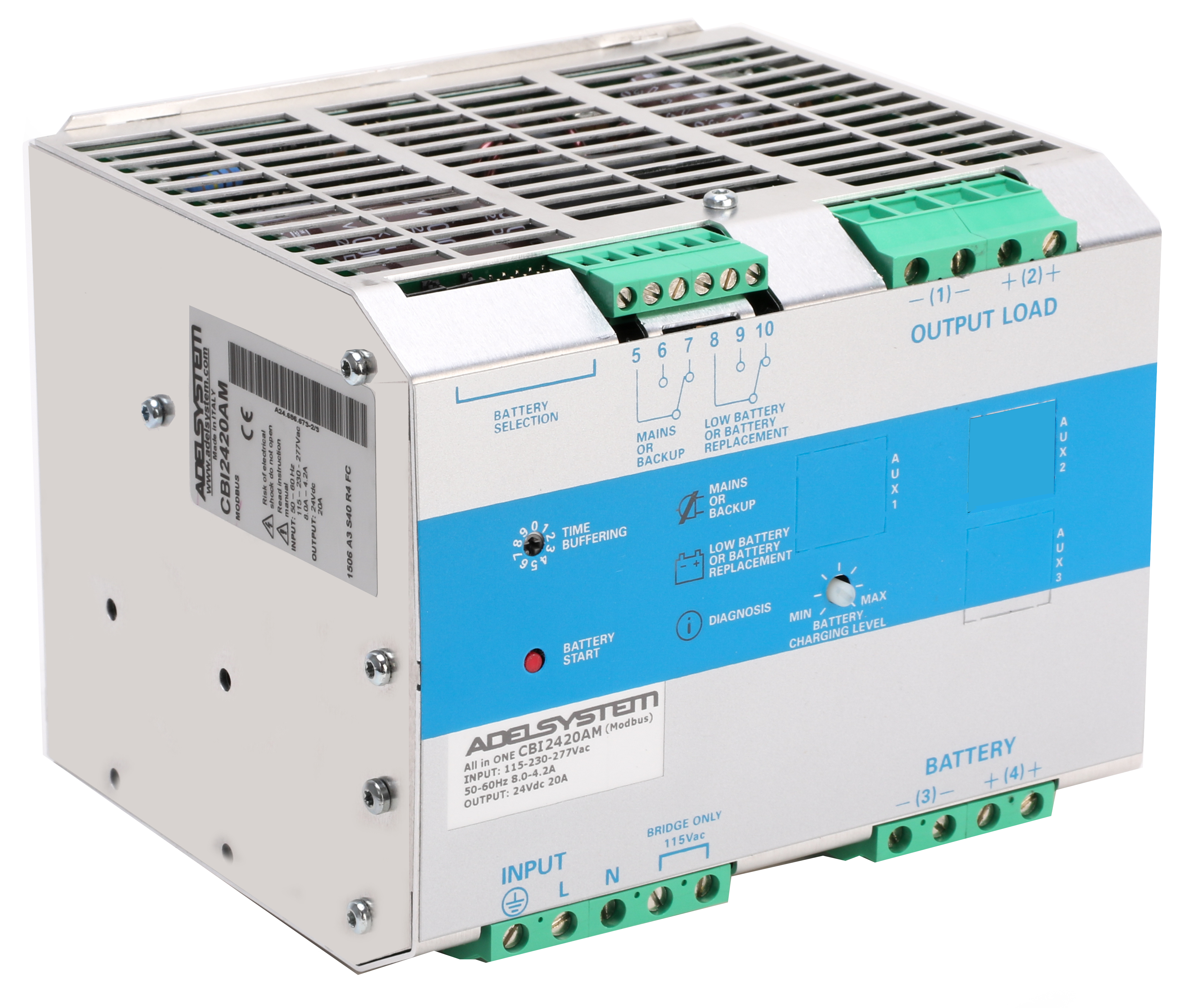 Types of Battery That Can be Charged 
The Adel System All-in-One series is compatible with multiple battery chemistries including: 
Open Lead Acid 

Sealed Lead Acid 

AGM Gel 

Ni-Cad* 
*Precautions need to be taken when charging Ni-Cad and Lithium batteries. Contact ADM on 1300 236 467 if you are using these battery types in your application before installing your Ade System UPS solution. 
You simply select the type of battery you wish to charge via a switch or link on the unit. This will change the charging curve to suit the battery technology being used.  
Charging Stages 
There are up to 4 charging stages, which includes unique algorithms for maintaining maximum battery health. 
Your Adel System UPS solution can even charge a deeply discharged battery that is almost close to having zero charge left in it.  
Built-in Self Testing Function 
The built-in self-testing function runs an auto test every 60 seconds to check the battery connection.  
Every 220 minutes the Adel UPS system will also run a load test to check the health of the battery.  
These two tests will ensure that you have adequate warning of any potential issue in the system. Allowing you to resolve the problem well before the battery needs to be called upon.  
There are also dry contact outputs for the following alarm outputs: 
Battery Low 

Replace Battery 

System Fault 
This means that you don't have to constantly send technicians out to remote locations just to test the batteries. 
System Protections 
Every Adel System UPS solutions has built in protections against short circuit, overload & battery reverse polarity. 
Further information 
To browse that Adel System rage of UPS solutions on our website follow this link: UPS Systems 
Or if you would like to speak to a member of our expert team please click HERE.