In Stock – 60-WATT Power Adapters with Stripped & Tinned Output Wires
ADM stocks the MEAN WELL GST60A24 power adapter with stripped and tinned output wires. This power adapter has a 24V / 2.5A output and is very cost effective for manufacturers.
It avoids the need to cut off DC output plugs that you don't need, reducing manufacturing time and reducing waste.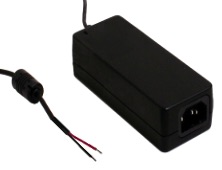 This power supply can be ordered under part number GST60A24-ST and for convenience is available through our online shop. 
Buy MEAN WELL GST60A24-ST online 
ADM account holders can log into the website to see their account pricing and to check stock availability. Please contact ADM if you would like us to create a login for you. 
The MEAN WELL GST series power supplies carry Australian electrical safety certification and comply with Australia's EMC regulations and minimum energy performance standards (MEPS).  
These power adapters are a class II power supply, double insulated with no frame ground. They carry a 3-year manufacturer's warranty.