Best Practice Procedures for Maintaining Batteries in a UPS System
Industrial batteries are subject to normal and abnormal ageing and occasional manufacturing defects.  
Battery tests and maintenance programs are essential to ensure reliability.
Several battery testing techniques are available both on-site and remotely, each with different costs, as well as with technical strengths and/or weaknesses.  
Considering the importance of the site, the age and size of the battery, and the results of previous tests, it is possible to implement maintenance schedules and testing procedures dynamically during the battery life cycle, to enhance the life and performance of permanently installed lead-acid batteries used in power back-up systems.  
The Institute of Electrical and Electronics Engineers (IEEE) standard 450-2010 – IEEE, sets out the recommended practice for maintenance, testing, and replacement of vented lead-acid batteries for stationary applications. Following these practices assures the best practice standards for UPS battery maintenance. 
This recommended practice provides guidance for determining when batteries should be replaced, and it is applicable to fixed standby service applications, where a charger keeps the battery fully charged and supplies DC loads in a power outage situation.  
Regardless of whether it is a data centre, industrial facility or utility, adherence to following this standard is highly recommended 
Adel System's CBI series DIN rail mount DC UPS power supplies act as an integrated battery tester inside a battery charger.  

It is an effective concept that can work with all types of batteries.  
Let's look at this technology and talk about Adel's Battery Care Concept. 
The Adel System CBI range of DC UPS power supplies can carry out the following checks on your batteries: 
Diagnostic Battery Checks During Operation 
| Diagnostic | Description |
| --- | --- |
| Accidental disconnection of cables  | Detects any accidental disconnection and responds by cutting off the output power.  |
| Battery not connected | If the battery is not connected the battery output is disabled.  |
| Impedance testing of connection cables | During trickle charging, the resistance on the battery connection is checked every 20 seconds. This is to ensure the cable remains securely connected. |
| Battery in open circuit or sulphated | In trickle charging mode the internal impedance of the battery is checked every two hours (if enabled). |
| Reverse polarity check | If the battery is connected with the polarity inverted, the CBI is automatically protected. |
| Battery connection test | The voltage is checked to ensure the correct type of battery is being used. |
| End of charge check | When the battery is fully charged, the Adel System CBI unit automatically switches to trickle charging mode. |
| Short circuit  | Detects any batteries that may have an internal short circuit.  |
All the above functions, plus the multi-stage charging algorithms combine to provide an effective battery care management system. Notification of any problems can be made via 2 alarm relays, which are a feature on every CBI model. 
The larger Adel System CBI DC UPS power supplies include a Modbus (or optional CANbus) interface, which can be used in conjunction with the Adel System DPY351 controller to transfer data to a PLC or control system, via a built-in Ethernet gateway.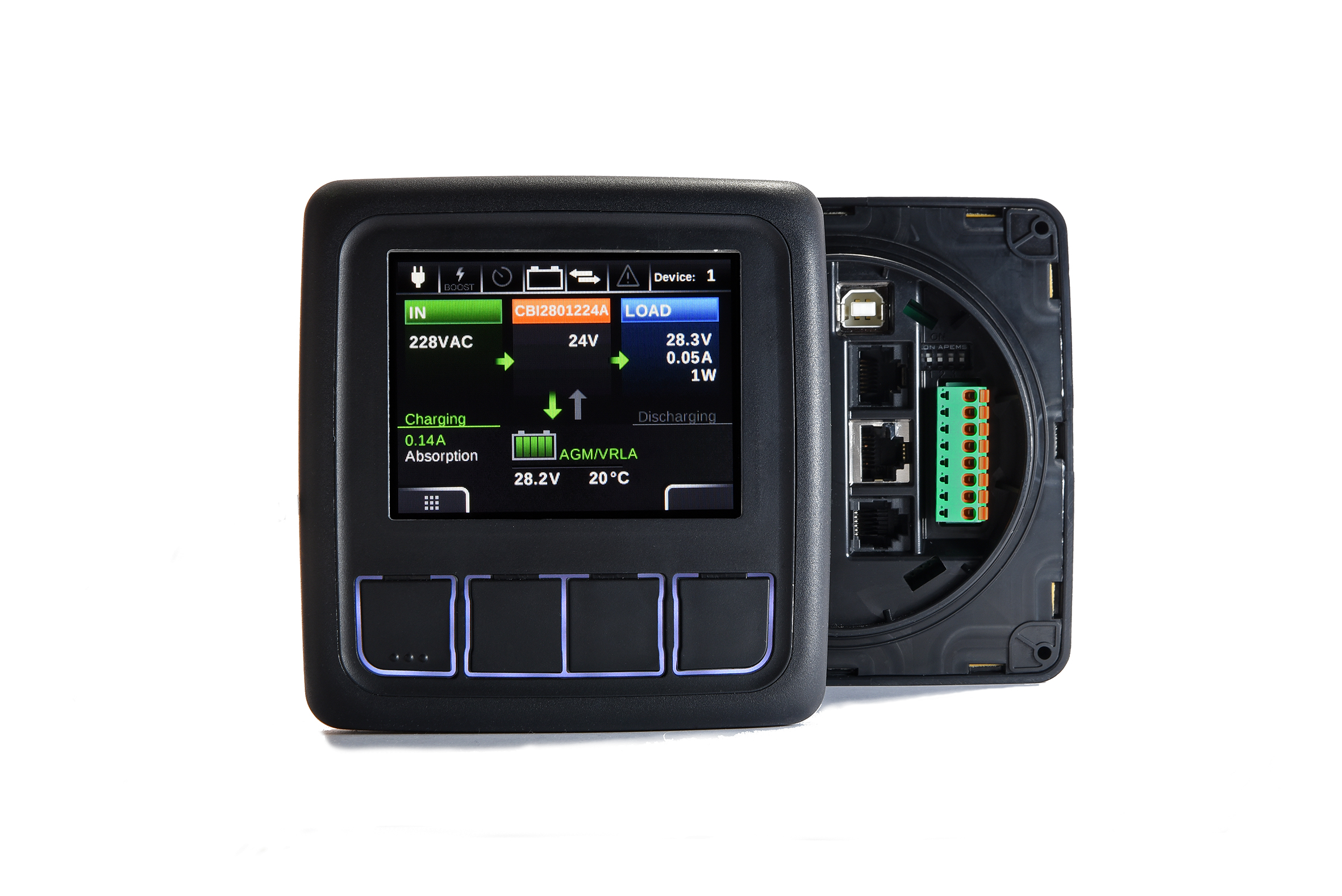 The DPY351 can also provide an alarm signal output to a PLC or controller, when the main power source fails and the battery backup is activated.  
Charging Batteries with Adel all in one DC IN Rail UPS System
Adel System's CBI series is an All-in-One DIN rail mounted UPS solution. Each unit is a combined DIN Rail Mounted Power Supply, Intelligent Battery Charger and UPS Module. 
They have a universal input voltage of 115 ~ 277VAC and are available with the following DC output options: 
12V (3A, 6A, 10A, 15A, 35A versions) 

24V (3A, 5A, 10A, 20A versions) 

48V (5A, 10A versions)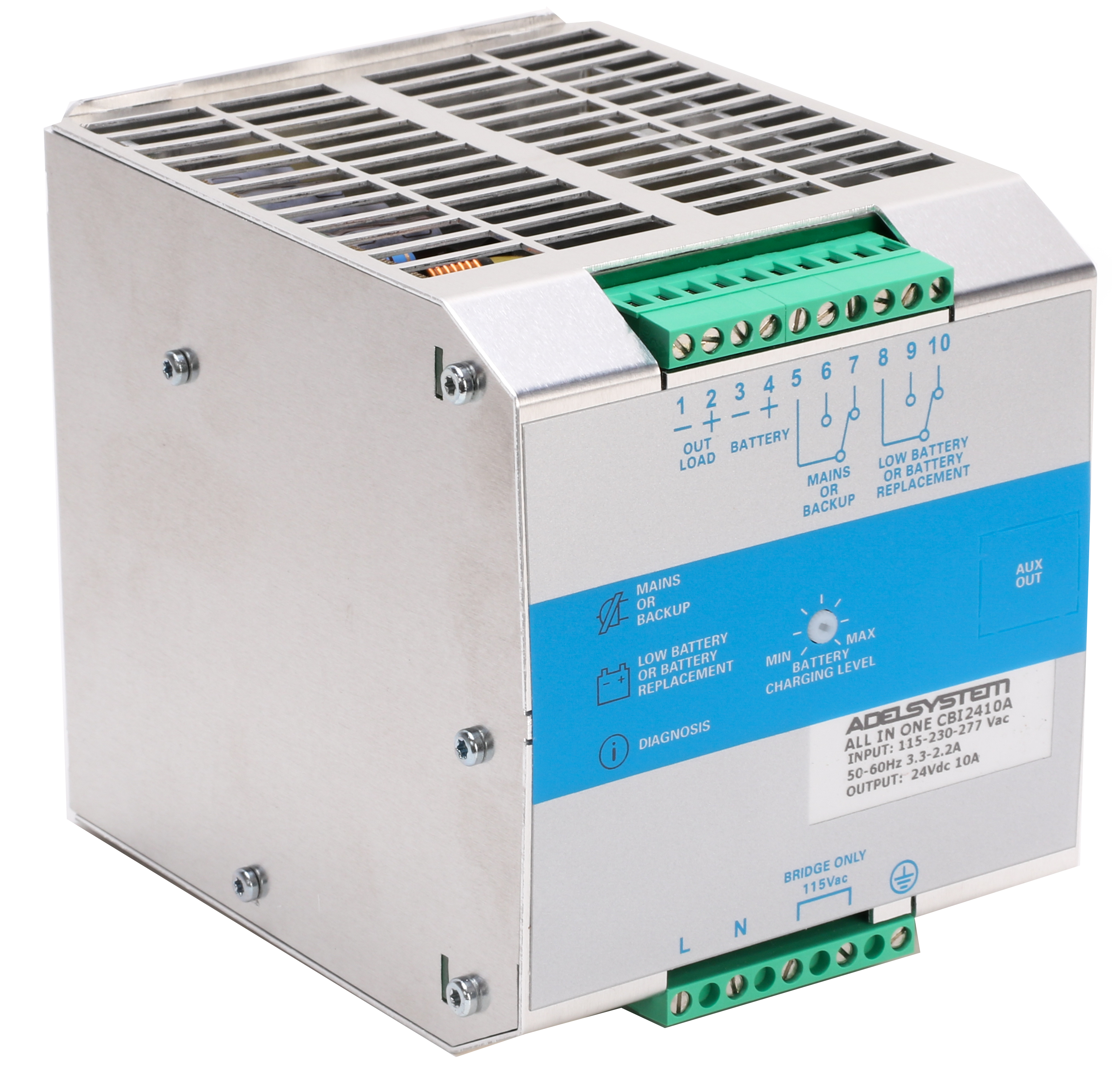 TYPES OF BATTERY THAT CAN BE CHARGED 
The Adel System All-in-One series is compatible with multiple battery chemistries including: 
Open Lead Acid 

Sealed Lead Acid 

AGM Gel 

Ni-Cad* 
*Precautions need to be taken when charging Ni-Cad and Lithium batteries. Contact ADM on 1300 236 467 if you are using these battery types in your application before installing your Ade System UPS solution. 
You simply select the type of battery you wish to charge via a switch or link on the unit. This will change the charging curve to suit the battery technology being used.  
CHARGING STAGES 
There are up to 4 charging stages, which includes unique algorithms for maintaining maximum battery health. 
Your Adel System UPS solution can even charge a deeply discharged battery that is almost close to having zero charge left in it.  
BUILT-IN SELF TESTING FUNCTION 
The built-in self-testing function runs an auto test every 60 seconds to check the battery connection.  
Every 220 minutes the Adel UPS system will also run a load test to check the health of the battery.  
These two tests will ensure that you have adequate warning of any potential issue in the system. Allowing you to resolve the problem well before the battery needs to be called upon.  
There are also dry contact outputs for the following alarm outputs: 
Battery Low 

Replace Battery 

System Fault 
This means that you don't have to constantly send technicians out to remote locations just to test the batteries. 
SYSTEM PROTECTIONS 
Every Adel System UPS solutions has built in protections against short circuit, overload & battery reverse polarity. 
For further information on Adel System's DIN rail mount DC UPS power supplies, please contact ADM on 1300 236 467.