Industrial Uninterruptible DC Power Supplies
ADM stocks the ADEL System range of DIN rail mount industrial DC UPS power supplies.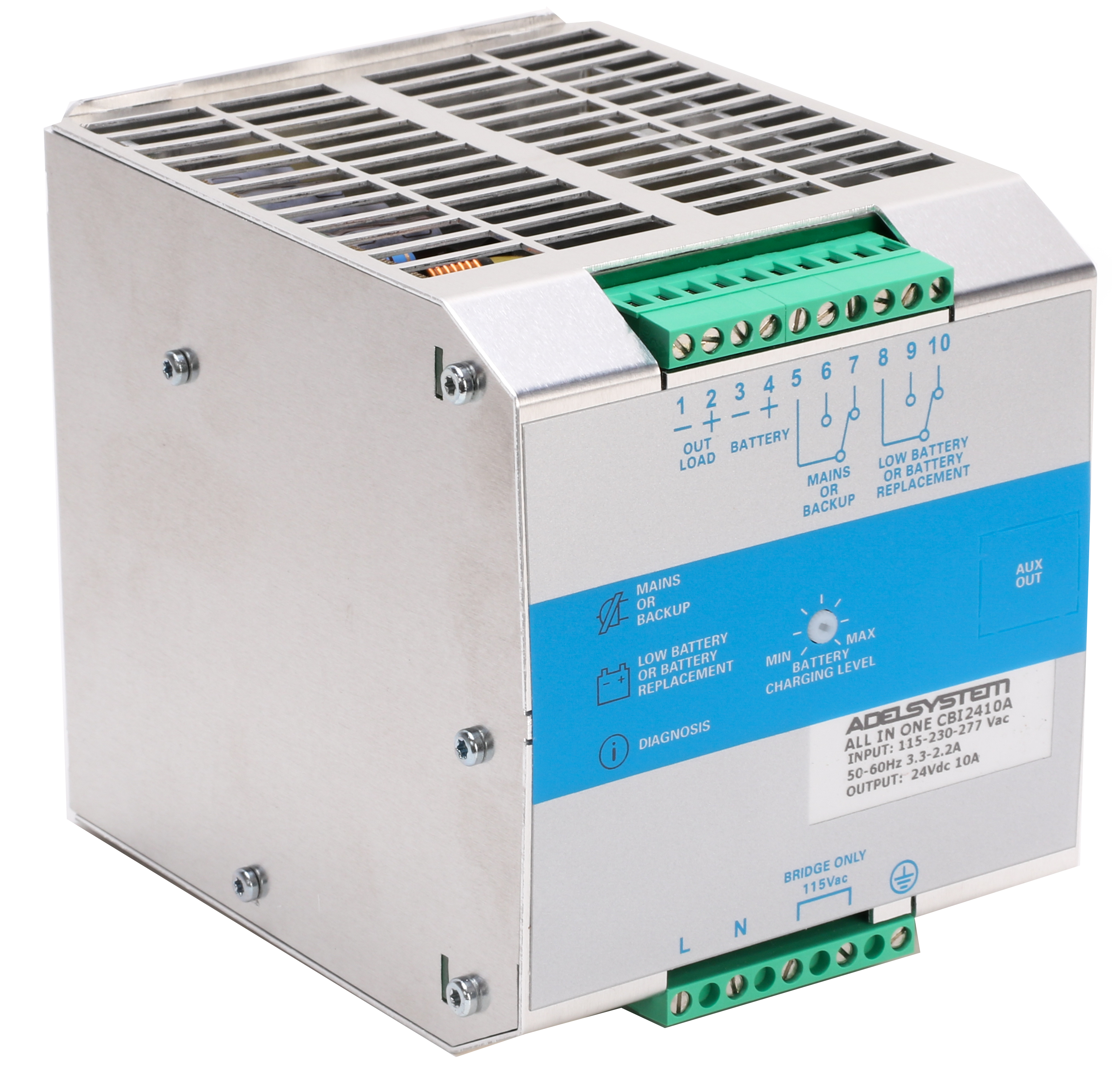 These all-in-one UPS power supplies incorporate a DIN rail mounting switch mode power supply and UPS controller into a single unit. Customers can also buy a maintenance free battery pack and holder to create a cost effective and fully integrated UPS solution. 
You can browse our product range by clicking on the following link: 
One of the main advantages of ADEL System's industrial UPS power supplies is that some of the larger models can be networked via the ADELBus network using the  DPY351 controller.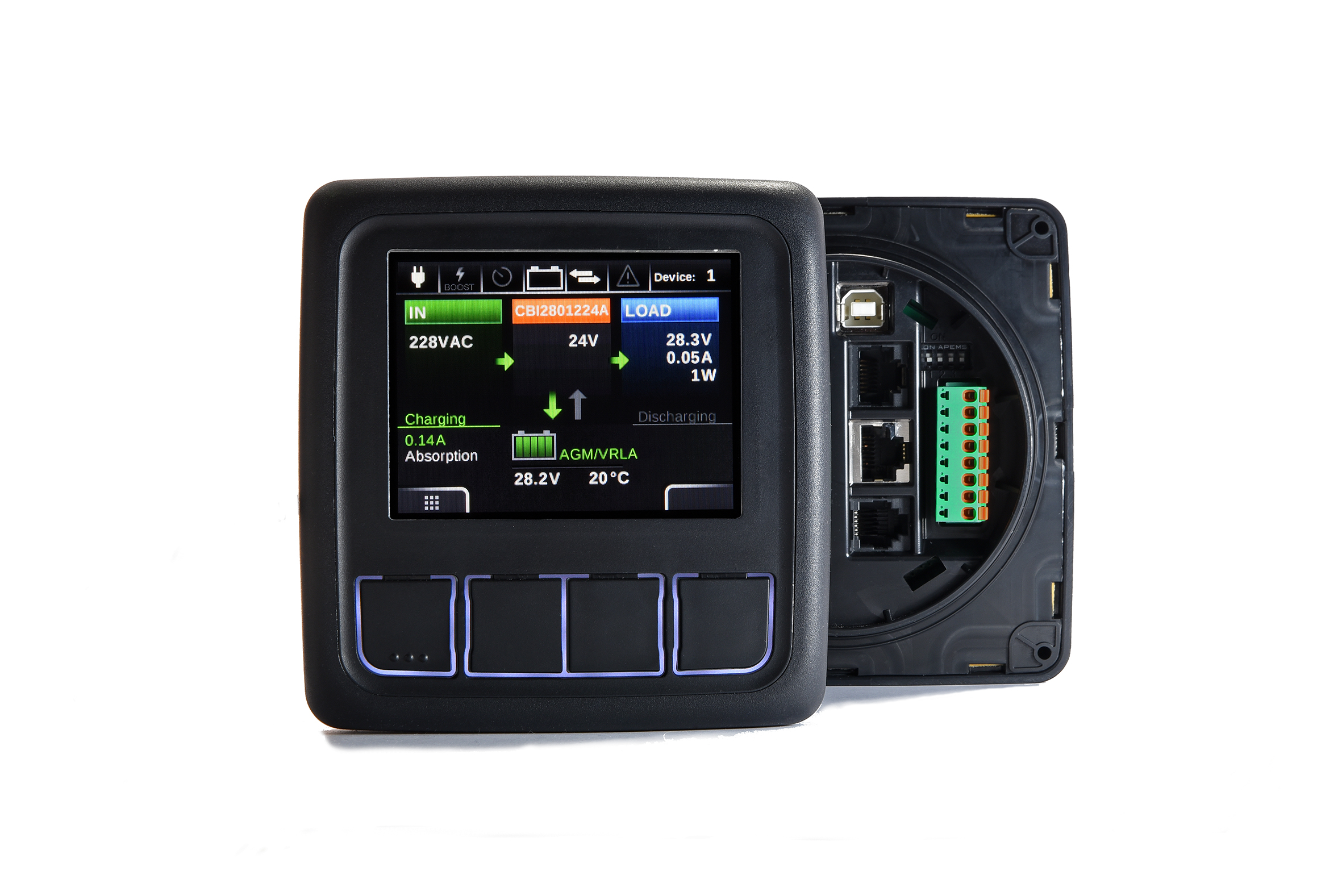 The DPY351 is robust and equipped with a high-brightness and wide viewing-angle 3.5'' TFT screen, which guarantees optimum visibility in any operating condition. The user interface is clear, intuitive and allows for configuration and management of the connected UPS modules in a quick and straightforward way. 
Using the on-board Ethernet interface, it is possible to remotely manage the ADELBus network via the Internet with a PC or a mobile device. The DPY351 can also act as a gateway using standard protocols such as Modbus TCP/IP and SNMP. 
Fully Integrated Industrial UPS Power Supply Solution 
ADEL System's ADELBus network allows you to manage all connected power supplies, with the following functionality: 
System Monitoring & Event Logging 
You can monitor and log the following data: 
Number of battery charging cycles 
Charge cycles completed 
Aborted charge cycles 
Ah charged 
Charging time 
Total number of transitions stand-by / back-up etc 
Status of Charging Battery 
 System Configuration 
The following parameters are fully configurable 
Charging curve 
Battery type 
Charging current Limit 
Enabling power supply function 
Timer 
Alarms and Recorder Management 
Enables you to: 
Setting alarm thresholds 
Receive message from other devices 
Record events 
Event Programming 
Actions can be coordinated across all connected devices, giving you a fully automated system. 
ADEL System DC UPS Features 
ADEL System uninterruptible power supplies are available with 12V, 24V or 48V outputs, so you are certain to find a solution that is suitable for your application.  
They combine the functions of a power supply with those of a backup module and battery charger.  
They optimise the loading and unloading times of the battery without a deep discharge, the switching from the battery to the charger without any interruption and provide automatic protection without a fuse against reserve polarity, short circuit, overload and overvoltage.  
They carry out diagnostic checks on the battery through the Life Test function, enabling you to select the most appropriate charging curve to maximise the efficiency of your system, prolonging the life time of the battery whilst enhancing its performance.  
The supply of power is automatically allocated between the load and the battery being charged, with the charging rate being up to twice the rate of the rated output current.  
Visual indications are given for 'power shortage', 'defective battery', 'battery voltage below 30%', 'battery charging level'. There is also a self-diagnostic function. These features make it easy to anticipate any potential issues, before they can cause a serious problem. 
The self-diagnosis function monitors for 'overload', 'battery sulfation', 'reverse polarity connection', 'elements in short circuit', 'protection against short circuit'. 
ADEL System industrial UPS power supplies are equipped with relays to warn of power outage and defective battery. 
3 charging levels are utilised: boost, trickle and recovery. It is possible to set boost and trickle remotely (on some units). 
Despite the high level of functionality offered, the ADEL System power supplies are compact, allowing you to fit more devices onto a single DIN rail. They will operate in ambient temperatures ranging from -10 to 70° C 
DC UPS with Start from Battery Function
One of the most useful features is the 'Start from Battery' function.  
Many uninterruptible power supplies will only start up when mains power is present, and switch to battery back-up when the mains supply fails.  
However, with the Adel System DC industrial UPS range you can start up using the battery power, when no mains power is available.  
This is particularly useful for mission critical application and installations in remote locations, where the available mains supply may be unreliable to say the least. 
The 'Start from Battery' function can be set from the unit itself or activated remotely.
About ADEL System 
Founded in 1991, ADEL system develops and manufactures industrial linear and switch-mode power supplies and is recognized as one of the world's leading manufacturer of DC UPS and intelligent battery chargers.  
Today the ADEL system power supplies are used all around the worldwide. 
ADEL System's investment in research & development ensure that they remain a market leader, meeting and exceed the ever-changing needs of our customers. 
Quality 
Even a relatively short interruption in current may cause technical and logistical damage to a system. Therefore, ADEL System maintains 100% control over their manufacturing processes, so that you have peace of mind that your power system will operate reliably. 
Every product is subject to final running in testing at maximum working voltage and current for 12-24 hours. This is over and above the testing that is required to meet electrical safety standards. 
ADEL System pay special attention to the components used in their products. Electrolytic capacitors with working temperatures of up to 105°C are used in ADEL System power supplies, and ADEL System have a specific laboratory for electromagnetic compatibility and safety testing.  
Further Information 
For further information on ADEL System's industrial UPS power supply solutions call ADM on 1300 236 467. A member of our expert team will gladly answer any questions that you may have.