MEAN WELL Redundant Power Modules
With the rapid development of technology, providing a stable supply of power to system critical instruments, such as industrial computers, and server and telecommunications equipment has become increasingly critical.  
Therefore, building redundancy into a power system is becoming more commonplace. 
One common method of achieving redundancy has been to connect two power supplies to the load in series through diodes as shown below: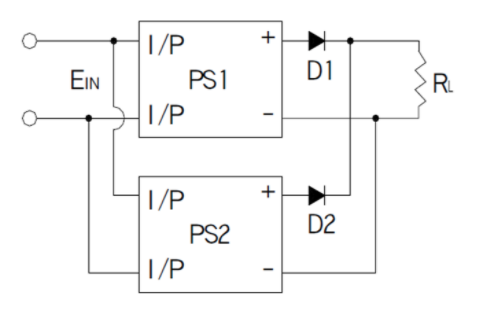 The idea being that should one of the power supplies fail, the other takes over ensuring the stability of the power supplied to the entire system.  
Using power supplies with a parallel function is not recommended for redundancy applications. This is because without a specific hot-swapping function, there is the possibility that a short circuit could occur at switch over, which would cause the entire power system to fail. 
It is up to the designer of a power system to verify its redundancy capability. Not all organisations have this capability in house.  
For some time now MEAN WELL has had a simple DIN rail solution to building redundancy into a power system, by using the DR-RDN20 redundancy module in conjunction with any MEAN WELL 24V DIN rail power supply.  
This has been a popular solution and MEAN WELL has now expanded the product range to make it available to a wider range of applications.  
One key change has been to introduce an enclosed 'or caged' version for use with MEAN WELL's range of enclosed power supplies. 
The concept is very simple. The redundancy module sits between the two power supplies and the load, managing the switch over should one of the power supplies cease to operate.  
The most basic redundancy circuit would look as follows: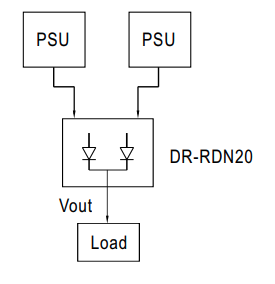 To increase the reliability of the system, you can multiply the number of power supplies and redundancy modules used in the power system's design, as per the below example: 

The MEAN WELL DR-RDN20 is rated at 20A and can be used with any MEAN WELL 24V DIN rail power supply.  
The new redundancy modules added to the MEAN WELL range are shown in the following table: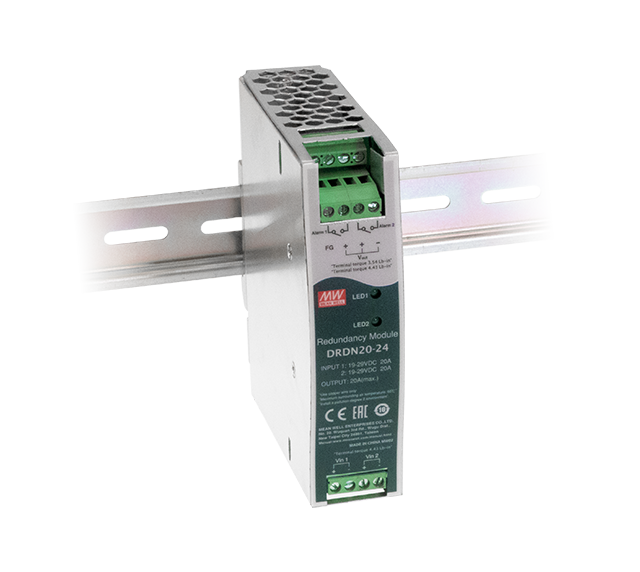 DIN Rail Redundancy Module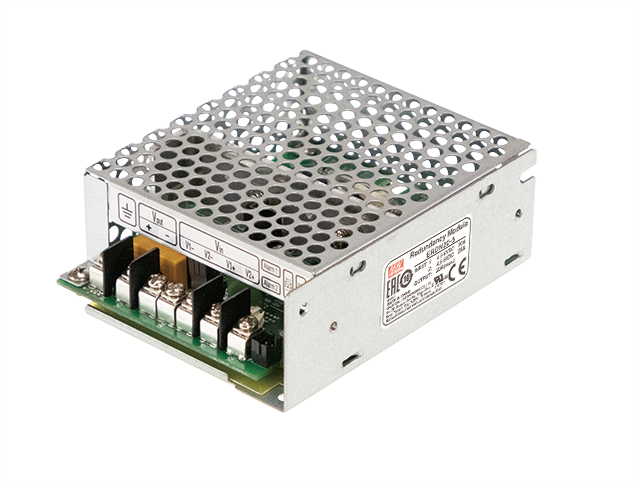 Enclosed Redundancy Module
 

DIN Rail

Enclosed

Output current

20A & 40A

System voltage
12V, 24V, 48V
ERDN20: 5V, 12V, 24V, 48V
ERDN40: 12V, 24V, 48V

Supports 1+1 or 1+N

Yes

No. of DC input channels

2

No. of DC output channels

1

Relay contacts

2 channel x DC OK

Operating temperature range

-40~+80°C (refer to derating curve in data sheet)

Safety certification

CB / UL / CE / EAC

EMC

RCM mark
Dimensions
DRDN20: 32*125.2*102mm
DRDN40: 55.2*125.2*100mm
ERDN20: 82*99*36mm
ERDN40: 97*99*36mm

Warranty

3 years
You can browse the product range and download the data sheets by clicking on the links below: 
MEAN WELL DIN Redundancy Modules
MEAN WELL Enclosed Redundancy Modules
The MEAN WELL redundancy modules simplify the process of designing a redundant power system. The responsibility of ensuring the design of the system is fit for purpose lies with the system designer. ADM will not accept a claim for losses caused by a power supply failure, beyond the scope of the manufacturer's warranty. 
If you have any questions about MEAN WELL redundancy modules, please call ADM on 1300 236 467.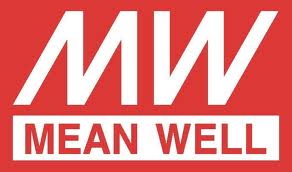 Original article authored by: Willard Wu (MEAN WELL Technical Department)
Edited for ADM by: Stephen Lilley (Marketing Manager)