DIN Rail DC UPS for Lithium-Ion and LiFePO4 Batteries
Adel System's DIN rail mount DC UPS modules can charge both Li-Ion & LiFePO4 batteries.
The Adel System range of DIN rail mount DC UPS modules have a built-in charging curve for Lithium-ion batteries, which can be selected by the user. Refer to the instruction manual for details.  

This is a recent feature that has been included and may not be available on older units. Please contact ADM with the details of your Adel System UPS module if you would like to find out if this feature is available to you.  
 
Any Lithium batteries you use should be equipped with their own built-in battery management system (BMS) to ensure effective and safe charging of the battery. 
Overview of Adel System DIN Rail UPS System 
Each unit is a combined DIN Rail Mounted Power Supply, Intelligent Battery Charger and UPS Control Module.   
The below diagram helps to explain the Adel Systems design concept and how the UPS module functions.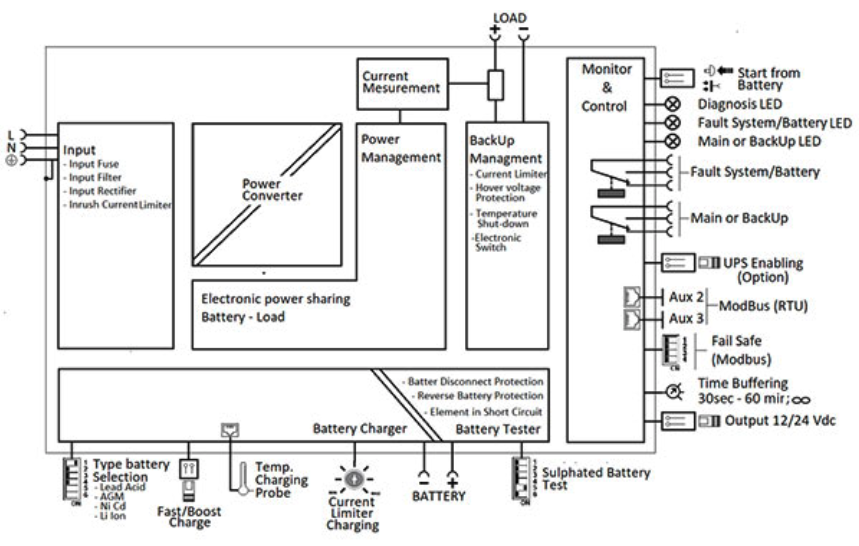 Each unit has a universal input voltage of 115 ~ 277VAC and is available with the following DC output options:   
12V (3A, 6A, 10A, 15A, 35A versions)   
24V (3A, 5A, 10A, 20A versions)   
48V (5A, 10A versions)  
These DIN rail UPS modules are used in many mission-critical applications around Australia, such as powering communications infrastructure, which has been installed in remote locations.   
The Benefits of Using an Adel DIN Rail UPS Module 
The critical component in any UPS system is the battery.   
Therefore, Adel has built in the concept of battery care into their UPS modules.   
The quick recovery of almost flat or discharged batteries is guaranteed by Adel's automatic multi-stage charging system and real-time diagnostics.  
The charging system includes 4 charging phases:  
Recovery of flat batteries (Not for Li-Ion batteries) 
Bulk charge with constant current  
Absorption at constant voltage (Boost if Fast Charger enabled)  
Float for maintenance  
During all phases, battery testing is carried out to guarantee rapid diagnostics and optimum management of switching from one phase to another, according to the specific response of the battery.  
What this means is that your battery will have a longer life. Thus, reducing replacement costs and improving the overall reliability of the UPS system.  
Remote monitoring and control of the UPS module is also possible on larger models. 
For further information please contact ADM. 
IS THIS INFORMATION USEFUL?
If so, why not share it with your peers and colleagues. Simply click on the blue LinkedIn share icon below.