Why Do I Need a KNX Power Supply? 
KNX is fast growing in popularity as a building automation communications protocol.
The beauty of KNX is that it is suitable for both straight forward installations, and highly complex projects.   
Regardless of the type of installation a dedicated KNX power supply is needed to power the KNX Bus.   
A standard switch mode power supply cannot be used for this purpose.   
To explain why this is the case let's look at a simple window blind control application. If you simply connected the control button to the motorised blind nothing would happen. The bus is not powered, so no command can be transmitted from the control button to the motor.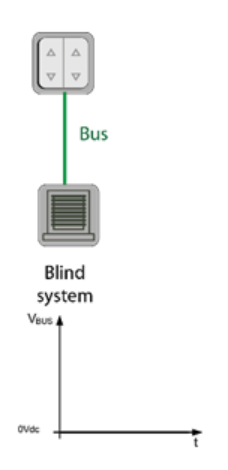 If you installed a standard switch mode power supply the button could transmit its control signal. However, because the power supply cannot generate a complete and proper signal the blind system's actuator is unable to receive or respond to the control signal.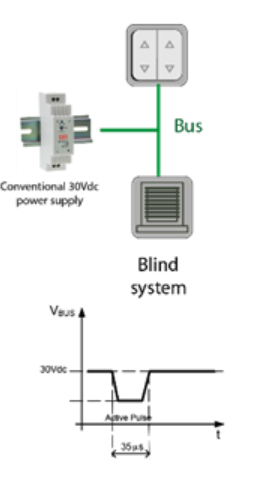 A KNX power supply with an integrated choke needs to be used. When the button transmits the active pulse signal onto the BUS, the KNX power supply will immediately respond with an equalisation pulse due to the integrated choke.   
The active and equalisation pulse is then combined to generate a correct KNX signal representing "0" in the digital world. The combined waveform is finished within 104 µsec, which is equivalent to 10 kHz. This is followed with another combined waveform for "0", or no waveform (just 30 Vdc) for "1" in the next 104 µsec.   
This "0" & "1" sequential numbering represents the actual function/command from the button to the targeted actuator of the blind system. As result, this simple KNX system can now operate properly.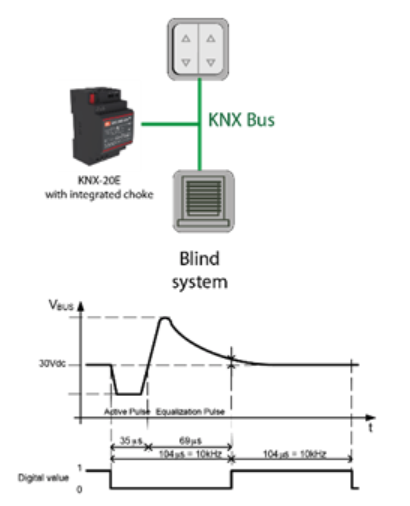 Other KNX devices, such as lighting, heating, HVAC, security...etc., work on the same principle, which means only one bus is required, allowing for a high level of design flexibility.   
Each KNX device consumes 10mA from the power supply when transmitting and receiving a signal on the bus. The KNX power supply is rated at either 640mA or 1280mA, allowing up to 64 or 128 devices to be controlled on one KNX BUS.  
Prior to the introduction of KNX, each device would need its own separate communications and electrical wiring. This made the installation of sophisticated building automation systems expensive and meant that greater attention to fire risk management was needed, due to the high density of wiring.  
KNX uses the 24VDC wiring to transmit power and signal to each device on the bus, with the 240VAC mains wiring only being used to power the higher-powered gear, such as motors for blinds.  
This makes the installation of such systems far more cost effective and greatly reduces the amount of additional wiring required.  
One noticeable feature of MEAN WELL's KNX power supplies is their compact size. Other KNX power supplies with a similar power output are generally wider. So, they take up more real estate than necessary in the distribution board. 
Cost Effective KNX Power Supplies Stocked by ADM 
ADM stocks the MEAN WELL range of KNX power supplies. 
MEAN WELL power supplies are highly cost effective yet give you a high level of reliability. 
This was the very first KNX device that MEAN WELL introduced and has a 640mA output. 
ADM also stocks the MEAN WELL KNX-40E-1280 KNX bus power supply.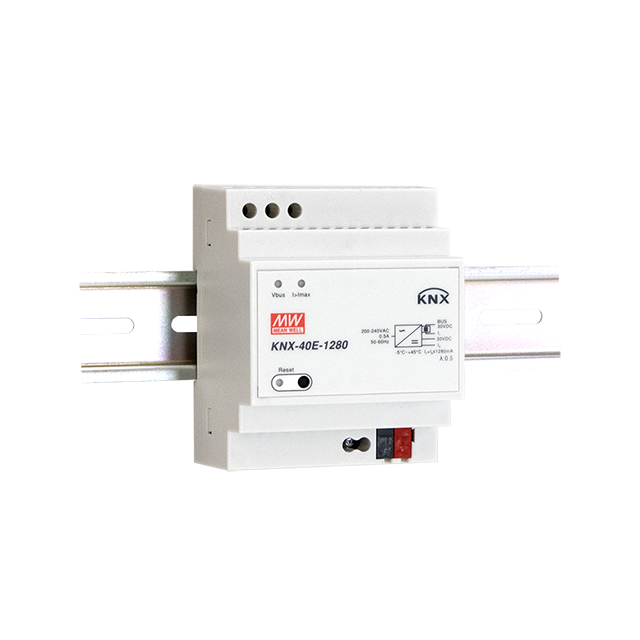 This model has a 120mA output. 
MEAN WELL KNX power supplies come with a 3-year manufacturer's warranty. 
IS THIS INFORMATION USEFUL?
If so, why not share it with your peers and colleagues. Simply click on the blue LinkedIn share icon below.